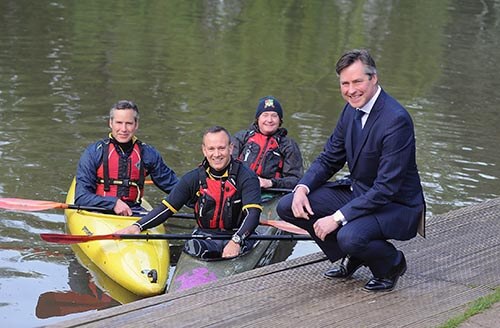 A Coventry businessman is pushing the boat out to get a-head in a charity kayak challenge.
Tom Bromwich, partner at commercial property advisors Bromwich Hardy, is set to embark on a 36-hour kayak challenge to raise money for the Get A-Head Charitable Trust.

Get A-Head is an independent cancer charity which helps to fight all head and neck diseases by raising money and awareness to help improve quality of life for patients and their carers.

Tom, who is the charity's chairman, is part of a six-strong team of supporters who will set off on the kayak challenge in June, travelling over 100 miles from Birmingham to London within 36 hours.

And the 44-year-old has already paddled-up support from his twin brother Edward Bromwich whose residential property firm ehB Residential has pledged £500 in sponsorship.

Both brothers have experienced first-hand the support provided by the charity as Edward has previously undergone treatment for Medullary Thyroid Cancer whilst Tom and his three young children have each had a thyroidectomy as a preventative measure.
Tom said, "It will definitely be a personal journey for me as my children and I have all had to undergo preventative treatment for thyroid cancer and it is fantastic to have the support of my brother Ed who has had to fight through a challenge of his own.
"We will be taking to the water in teams of two covering well over 100 miles in double kayaks with just as many locks to try and negotiate.

"I'm sure it will be a tough journey but we have all been training really hard and we are extremely dedicated to the cause.
"The £500 pledged by ehB Residential will be match funded by Microsoft taking the total contribution up to £1000 which is fantastic.

"This will contribute vital funds to Get A-Head Trust and help to support vital research into rare head and neck diseases such as Adenoid Cystic Carcinoma (ACC) and Medullary Thyroid Cancer (MTC)."

Edward, who is managing director at Leamington and Warwick based ehB Residential, said he is looking forward to watching his brother take on the challenge from the safety of dry land.

"Tom has been training round the clock to try and prepare for the gruelling journey and I'm sure him and the rest of the team will have to overcome a number of challenges en-route.

"Having undergone treatment for thyroid cancer myself I appreciate how important it is to raise money and awareness to support not only research but to also provide the vital equipment needed to support cancer patients.

"Get A-head does a fantastic job in helping to raise awareness of both the symptoms of and treatments for rare head and neck diseases and it is great that we have been able to pledge £500 to help boost funds for the charity."

To find out more information about the kayak challenge please visithttp://getahead.org.uk/kayak-challenge-june-2014/ and to support Edward on his journey visit https://www.justgiving.com/getahead2014.
More information about the Get A-head Charitable Trust can be found athttp://getahead.org.uk/.