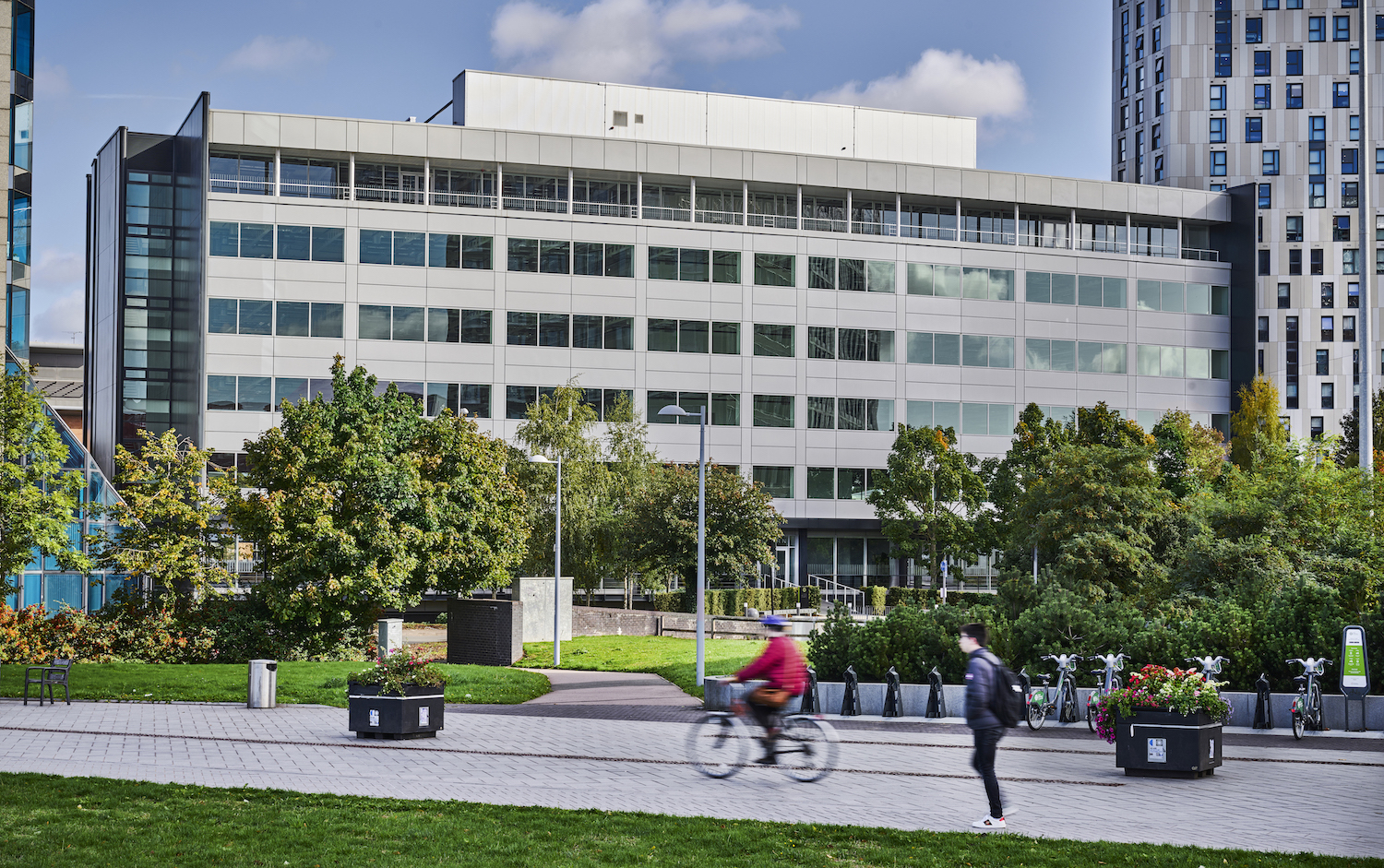 The £9 million transformation of one of Coventry's most prominent office buildings in the city centre is complete, unveiling a workplace created for a new wave of occupier.
The net zero ready, six-storey, 90,000 sq ft building on Manor House Drive, is designed for modern businesses who want to make a statement and require a premium office experience to attract and retain the best talent.
Transformed by Solihull based IMProperties (IMP), Bourn is a smart enabled building and utilises a dedicated mobile and desktop App to create a partnership approach to its focus on sustainability, wellbeing, and community.
The App will be used not only for building access but also as an effective tool to manage the office, from enabling sharing of energy and waste data, encouraging the use of city centre amenities and helping to build an engaged building community through social and community events.
A dedicated, high-speed, dual entry fibre ethernet infrastructure wi-fi system has been installed, which will help future proof businesses in an increasingly digital business environment.
Rachael Lacy director at Colliers Bourn's building managers, Colliers said: "We believe Bourn's way of operating will be one that all premium offices of the future will embrace.
"The beauty of the App is that it enables us to complement our front of house concierge team in developing a strong sense of community through creating a fully integrated customer experience akin to that seen in the service industry.
"IMP's approach enables occupiers to both share in and make their own mark in setting out their priorities for sustainability, wellbeing, and community."
Lacy added: "Since the pandemic, all businesses have taken a long hard look at their values and to encourage their teams back into the office, they have to offer more than a high-quality working environment.
"It will be the role of our dedicated front of house team, to build community and use the App to promote Bourn's values and offer news, updates and wellbeing campaigns. Employees can even use it to set up their own clubs to align with shared interests and hobbies.
"We will also be supporting local businesses and eateries to promote special offers and events to help immerse occupiers in the rich culture of Coventry."
IMP is currently exploring ways to reach out to charities and organisations in the community to ensure they deliver both social and economic value in line with their own Sustainable Future's strategy.
Rob Hemus, asset director for IM Properties believes Bourn offers an occupier experience unique to the city.
"We're incredibly proud of what we have achieved at Bourn. We've repurposed an existing building into a best-in-class office which will be proactively asset managed to help encourage more sustainable behaviours which are compatible with the future of the planet.
"Ensuring the long-term sustainability of buildings is crucial and as a member of Better Buildings Partnership, it aligns with our climate commitment to improve existing stock and help reduce carbon emissions as we head towards net zero in 2030.
"For us, it's about investing in what's right for the planet now and for the future to help all our occupiers achieve their sustainability goals."
Bourn includes the use of photo-voltaic panels, achievement of an EPC A rating, BREEAM Very Good and conversion from gas to run on an all-electric M&E system, using 100% renewably sourced energy.
The building also promotes and aims to encourage sustainable travel through 16 EV car charging points and the capacity to increase to 48 in the future as well as a dedicated cycle hub with its own secure entrance.
The cycle hub is set up for storage of electric and foldup bikes, with a bike maintenance station as well as changing facilities, showers and blue-tooth heated lockers.
Internally the building offers a new dual entrance, double height atrium, bright open floor plates with stripped back and new exposed M&E and a focus on wellbeing.
Air quality is constantly monitored, and natural light maximised with an abundance of indoor plants to promote biophilia. Externally too, green open spaces with seating help to unify the design and offer well design breakout space for occupiers.
A Social Hub at the rear of the building provides further breakout areas, active standing stations and a ZipTap offering filtered, chilled water with seating and room for people to meet and hold events.
CBRE and Bromwich Hardy are acting as agents on Bourn.