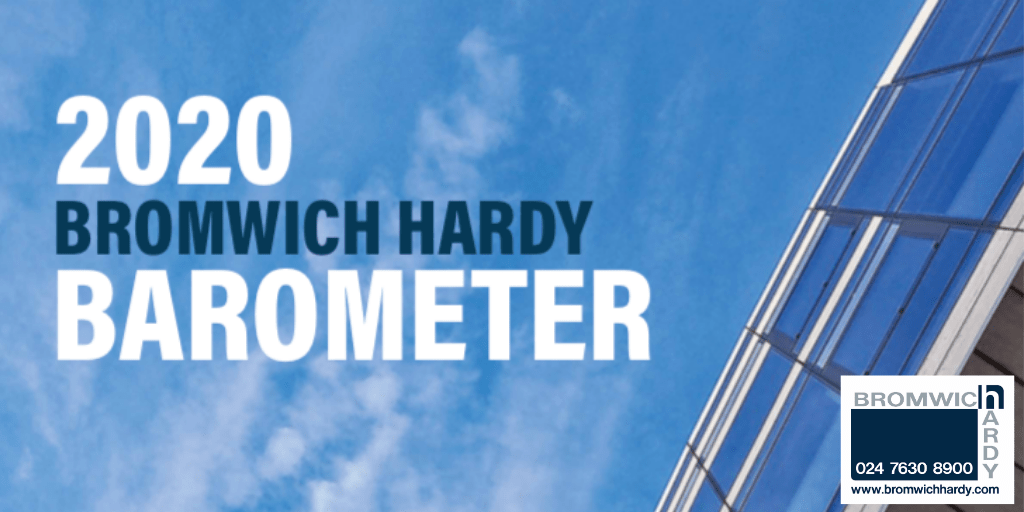 Welcome to the Bromwich Hardy Barometer.
This is the first edition of what we hope will become an annual publication, detailing the health of the commercial property market across Coventry, Warwickshire and the wider region.

Inside you will find a wealth of facts and figures about the state of the region's office and industrial markets, a breakdown of key activity in each of the local authority areas across Coventry and Warwickshire and a look at some of the major developments which will help shape this region for years to come.

It will come as no surprise to anybody when we say that the previous 12 months have been challenging in many parts of the market. The national political backdrop, dominated as it was by Brexit and culminating in last month's general election, was a constant source of frustration to the business sector and undoubtedly affected investment decisions.

Closer to home, a shortage of high quality, newly built stock remains an issue across this region – and is likely to do so for some time yet. In four of our local authority areas there is no new office space under construction at all and the picture is only marginally better when it comes to industrial development.

But despite this outlook, it has been an extremely successful year for the team here at Bromwich Hardy.

We are hugely proud to have been named Warwickshire's Most Active Agent by respected industry publication Estates Gazette for the sixth year running, whilst partner Andrew Cosnett was also named Warwickshire Dealmaker of the Year.

Meanwhile another of our partners, James Brookes, was named the West Midlands Dealmaker of the Year by the same publication, reflecting the leading role we now play across the wider Midlands and further afield.

The strength of our multi-disciplinary team – we have more than 200 years' experience in commercial property – and our single-minded dedication to meeting our clients' commercial interests, means we have been able to continue to thrive despite the vagaries of the market.

It is why we are now just as likely to be working on deals on the national stage as those close to our Coventry home. It is why our partners are now all seen as experts in their individual areas of specialism. And it is why we believe this Barometer is such a useful addition to the region's business resources.

We wish you continued prosperity and business success throughout 2020 and look forward to working with you.