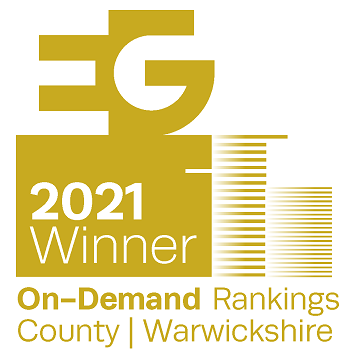 We're delighted to say that our ongoing success has again been recognised in new rankings showing how well commercial property agencies around the country performed last year.
We're thrilled to have been named top performing agency in Warwickshire by industry data experts EGi for our work across the whole of 2021.
The new table puts us top in the county for disposals and acquisitions, with 100 deals in the last calendar year – more than the next four agencies in the list combined.
But our success does not end there in the county tables.
We are ranked third in the West Midlands with 66 deals and also secured fourth spot in the table for Leicestershire.
There's more good news in the regional leaderboards, where we rank third across the West Midlands for office disposals and acquisitions, having concluded 163,819 sq ft of deals in 2021.
We also came in fourth in the regional retail charts with 64,287 sq ft of deals and fifth for industrial activity, where we notched up deals covering 739,729 sq ft.
And we also made the top ten in the national retail acquisitions, lettings and occupational sales table just for good measure.
Founding partner Tom Bromwich said: "Once again I am immensely proud of the work of everyone in the Bromwich Hardy team for their magnificent effort, all of which is recognised in these tables.
"Despite all the difficulties that 2021 brought, we were still able to conclude hundreds of deals for the benefit of our clients and again demonstrate our place as one of the leading independent agencies anywhere in the country."