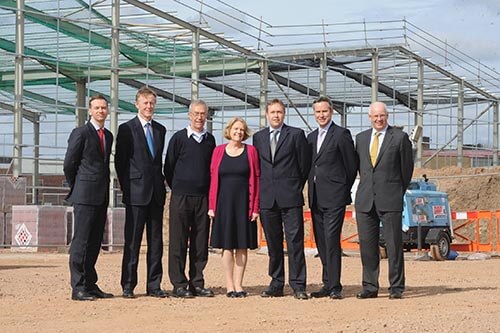 A Leamington company is investing more than £4 million in a new state-of-the-art manufacturing headquarters.
Leeson Polyurethanes is the UK's largest manufacturer of formulated polyurethanes which are used as binders and coatings by a range of industry sectors.

The firm, which was started by David and Kathleen Leeson in 1986, is moving to a new custom-built complex just yards away from its current base at Tachbrook Park to allow it to continue its current expansion.

It moved to the park in 2001 into a 25,000 sq ft unit built by Leamington-based A C Lloyd, and the two firms have teamed up again to create the new 52,000 sq ft manufacturing and headquarters facility.-
The firm's products – which are used in floor coatings, waterproofing, anti-skid surfaces, sports pitches and as adhesives in a range of sectors including construction and leisure – are now exported to more than 50 countries.

The company, which employs 27 staff, won the Queen's Award for Export in 2007.

David Leeson said the company had continued to grow through the recent downturn and recorded some 20% growth last year.
He said: "We have had more than a decade of growth since moving to our current unit, so it made total sense to expand but remain in the same locality.

"It is a significant investment for us but we are very confident that we will continue to drive the company forward and increase our rate of growth.

"We have very good staff and moving literally just yards away will mean as little upheaval as possible and, of course, we will have a totally bespoke unit tailored to our needs.

"It also means that we have been able to watch the new building rise from the site over the last few months which is exciting for all of us.

"We had a very good relationship with AC Lloyd when we first moved to Tachbook and had no hesitation in linking up again for our new headquarters. Again it has all gone very smoothly and we are looking forward to completion later in the year."
The new unit is scheduled for completion at the end of August, and Leeson will undertake a phased move which will take around three months.

Des Wynne, director at A C Lloyd, said: "We are delighted to be part of this manufacturing success story.

"This really is an example of two companies working very well together. A C Lloyd was delighted to be involved in the construction of the current unit more than a decade ago, and it has clearly helped Leeson go from strength to strength.
"Tachbrook Park has become an extremely vibrant business park supporting a remarkably wide range of occupiers, and has become a very important factor in the growth of employment in this area.

"Leeson Polyurethanes is an outstanding example of a local company which is successful on a global scale, and when that happens the whole economy prospers.

"We are now seeing this in the number of new enquiries from companies that recognise the attractiveness of the area with first class connectivity both in terms of location and in the availability of high speed data services"
Commercial agents Bromwich Hardy and North Rae Sanders acted for A C Lloyd on the deal.

From left: James Drew (AC Lloyd), Des Wynne (AC Lloyd), David Leeson, Kathleen Leeson, Joel Leeson, Tom Bromwich (Bromwich Hardy), Robert Rae (North Rae Sanders).