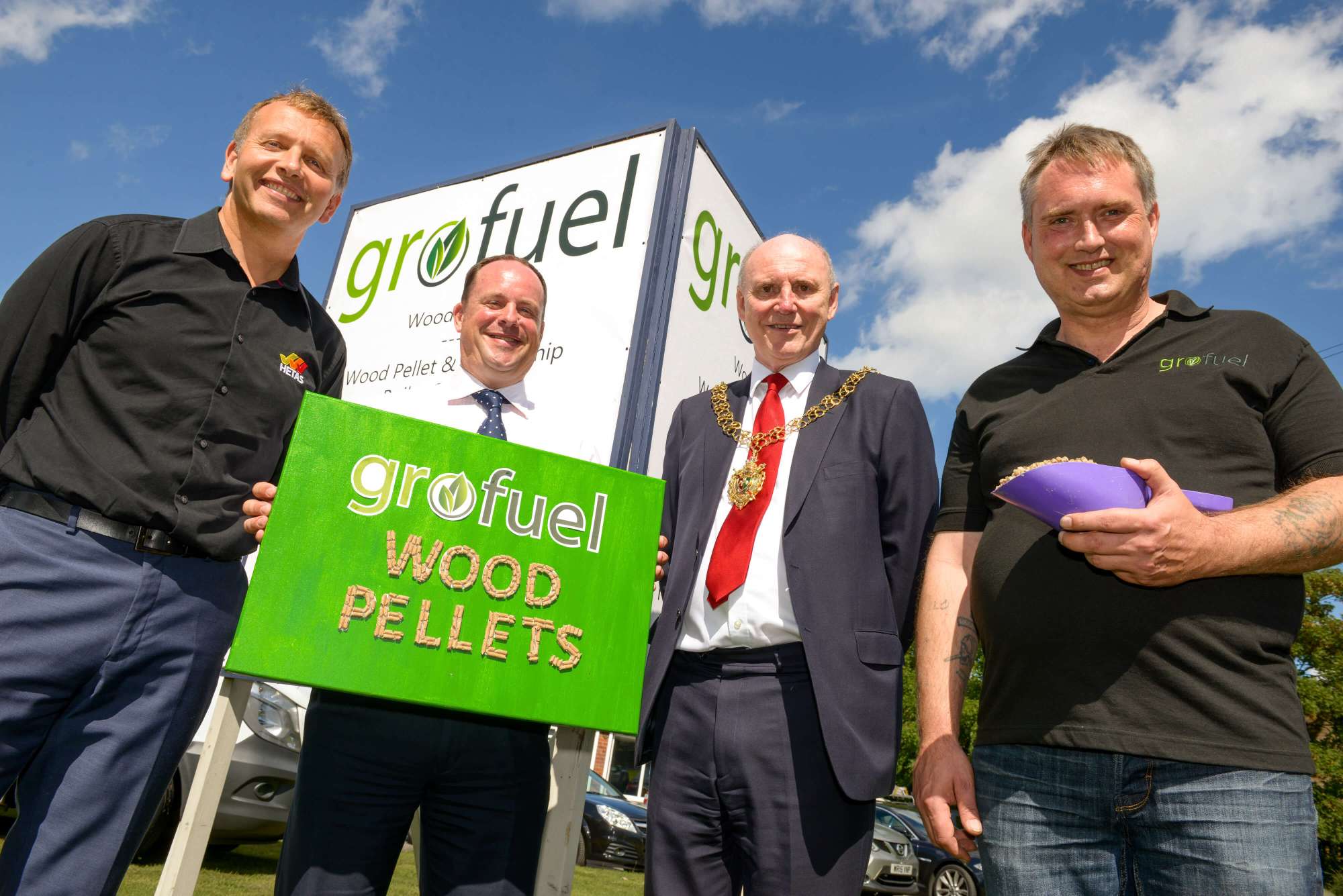 An entrepreneur in Coventry is fueling growth, generating heat and helping the environment after launching his new business.
Peter Turner welcomed the city's Lord Mayor, Councillor Lindsley Harvard, and David Penn, the chair of the Chamber of Commerce's Coventry branch, to the launch of Grofuel, based on Charter Avenue.

The firm is selling stoves and heating systems, which run off wood pellets, to both the domestic and business market and is also importing and selling the pellets.

The company, which imports from Italy and Austria, has had support from the Chamber in getting the business off the ground as well as a grant via the EU.

Cllr Harvard welcomed Grofuel, which is creating at least 12 new jobs, and said Coventry's economy was built on the success of small and medium sized businesses.

He said: "It's fantastic to see more jobs being created in Coventry to support the businesses we have here. We have always been an innovative city. We have a thriving small and medium sized business community so I'm really pleased that GroFuel has chosen to launch here in Coventry."

David Penn, who is also a partner of Bromwich Hardy which assisted in the move to Charter Avenue, said: "The Chamber launched a Go For Growth campaign earlier in the year and it's great to see businesses such as Grofuel choosing Coventry as a place to launch.

"We wish Peter and the team every success and I know the Chamber will be ready to support them in their efforts to grow in the coming years."

Peter has a background in renewables having studied future fuels in Spain and worked with universities in Sheffield, Hull and Derby to develop a break system for wind turbines that was patented.

He believes there is an opportunity for the UK and the West Midlands to grasp the renewables nettle.

He said: "Firms and individuals can benefit from the Renewable Heat Incentive which will reduce the cost of the systems – so it's good news all round. They save money, it's better for the environment and, of course, we generate orders."

The cost-saving on the burner systems is up to 70 per cent against gas and 40 per cent against oil, according to Peter. Furthermore, they can also receive tens of thousands of pounds back in Renewable Heat Incentive (RHI) payments.

He added: "We are extremely grateful to the Lord Mayor for coming along to help us launch and for the support from the Chamber.

"We want to make a positive impact on the economy in the area and, also, on the environment too. The great thing for our customers is that means them saving money and, also, the possibility of getting money back through the RHI.

Pictured (left to right): Installer Mike Harvey, David Penn (Chamber), Lord Mayor, Councillor Lindsley Harvard, Peter Turner.