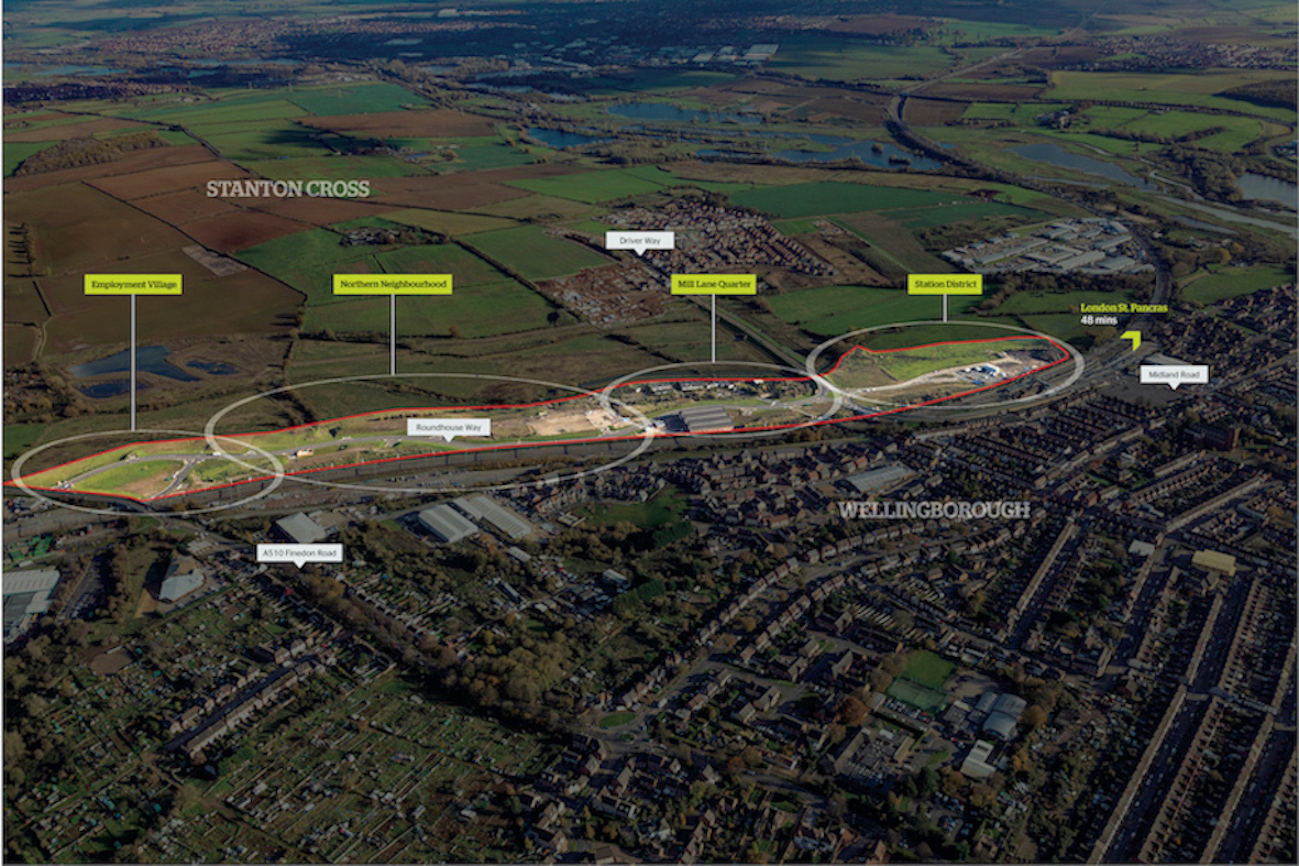 A major new mixed-use industrial development which is part of a £1billion plan to transform a Midlands town has been released to the market through award-winning Coventry commercial property specialist Bromwich Hardy.
Station Island at Wellingborough is part of the ambitious Stanton Cross scheme in the Northamptonshire town which will create more than 3,000 new jobs, open up over 1.5 million sq ft of commercial space and see the building of 3,750 new homes and new community facilities.
The Station Island scheme will also include a new platform for the town's railway station, making it a regionally-significant transport hub.
Bromwich Hardy are marketing the site jointly with Drake Commercial for Vistry Homes.
Bromwich Hardy partner Michelle Mills said Station Island would be a flagship development offering parcels of land from 0.84 acres to 8.31 acres, with potential to combine plots.
"Outline planning permission has already been obtained for a wide variety of commercial and residential uses at Station Island, which will undoubtedly be the premier development of its kind in the region," Michelle said.
"The location, transport links and infrastructure will all be first class – St Pancras is less than an hour away on the train - and the development will create an unrivalled business environment which will be a beacon of excellence.
"The development will see the creation of a vibrant station commercial hub with the opportunity to convert the existing Round House, a former engine workshop, into a truly stunning office or leisure facility.
"Station Island provides the key link between Wellingborough town centre and Stanton Cross and provides a range of exciting development opportunities for both retail and employment uses.
"An incredible amount of work has already gone into getting these plans to this stage and the potential of the site is truly enormous. We are delighted to finally be able to offer the site to market and expect a huge interest."
The site is split into four areas – the Station District, Mill Lane Quarter, Northern Neighbourhood and Employment Village, with each having its own identity.
Station District will be a diverse development with a rich mix of complementary uses concentrated around Wellingborough Station and its new facilities and parking, whilst the Mill Lane Quarter will be an inspiring mixed-use area drawing upon the rich cultural heritage of Mill Lane and distinctive character of the Round House Building.
The Northern Neighbourhood will be a flourishing community of starter, family, and later living homes, with opportunities for serviced offices and co-working hubs, local commercial services and leisure facilities to be integrated within the fabric of the development.
Meanwhile the Employment Village will be a thriving place to work, conveniently situated close to bus and rail links, within walking distance of Wellingborough and Stanton Cross, and benefitting from the Country Park on its doorstep.
Outline planning permission has been granted for a range of uses including E Commercial, Business and Service; Offices; B2 Light industrial; B8 Storage or distribution (maximum unit size 1,000m²); C1 Hotel; C2 Care Home, Retail and Sui Generis uses including a leisure establishment.
Both Birmingham and Luton airports are around an hour's drive from the site which is located close to key transport links including the A45, A14 and M1 motorway.
Click here to watch the fly-through video.