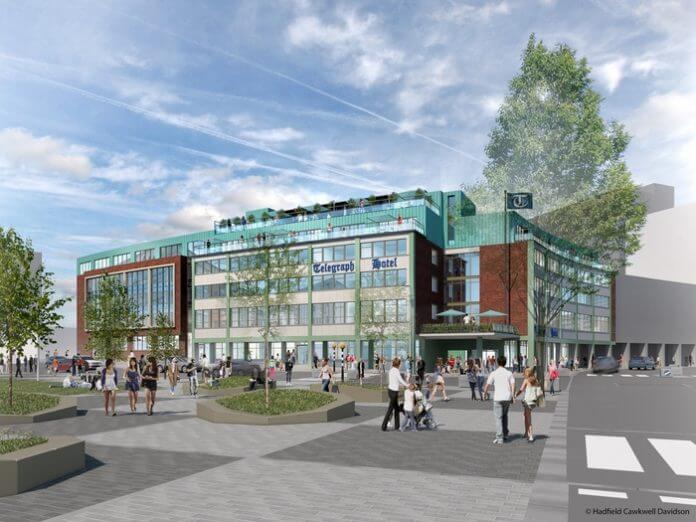 A client of Bromwich Hardy has submitted plans to Coventry City Council to transform the former Coventry Telegraph building into a 1950s-style boutique hotel as part of a major regeneration project in the city centre creating 130 jobs.
Complex Development Projects (CDP) – the firm behind many successful regeneration schemes in the city – has applied to convert the building into a themed hotel that celebrates the city's iconic Mid-Century architecture.

The project will act as a showcase for Coventry's post-war regeneration and is planned to be completed in time for the UK City of Culture year in 2021.

Under plans submitted for the 2.5 acre site, the building will be totally transformed with around 100 rooms, ground floor restaurant and bar, meeting rooms, penthouse suites and potentially a rooftop bar.

In addition, the plans incorporate a banqueting or conference room which could seat 300, as well as the Lord Iliffe Suite – the restored top floor apartment of the former owner of the newspaper.

To help fund the development, an outline student housing scheme has also been submitted for areas to the rear which are currently derelict.

Ian Harrabin, of CDP, said the new hotel would bring something new and exciting to rival other cities that have pushed boundaries with their hotel offering.

He said: "The city centre needs a landmark hotel especially with 2021 just around the corner. City of Culture is all about celebrating Coventry's special character and its creativity. We need a hotel that is part of Coventry's story – a special place that offers something unique.

"City of Culture will boost not just the number of visitors to the city but also attract a much wider market with people coming for weekend breaks. A special hotel can actually attract visitors to the city, rather than just providing a bed for the night.

"The project will save a notable piece of late 50s architecture, restore its economic value and provide a big boost to the regeneration of the Corporation Street area."

Planning consent was granted in 2017 for the previous owner's scheme involving demolition of the landmark 1950s building and construction of a new mixed-use development including student accommodation and a hotel.

Harrabin added: "We plan to preserve many original features and artefacts from the building and incorporate them into the hotel design which will make it authentic. This also provides a great opportunity to have individually-themed rooms to reflect stories which came out of the building over its six decades as a newspaper office.

"We opened a pop-up gallery in the foyer of the building last year and we've had 15,000 people visit. The affection shown for the building has been amazing – that is something we want to harness."

Harrabin said that talks are progressing with an operator that has embraced the building's architecture and has the track record to deliver something exceptional.

If the applications are approved, strip out work would be carried out later this year with construction starting in 2019, and completion scheduled for the first half of 2020.

Cllr Jim O'Boyle, Coventry Council Cabinet Member for Jobs and Regeneration said: "The city needs more hotel bedrooms and I'm really pleased to see that a much loved 1950s landmark will be restored imaginatively to create something unique.

"City of Culture will give the visitor economy a much-needed boost with an estimated 250,000 additional tourists in 2021.

"The hotel will provide somewhere special for people to stay – not just a bed, but a taste of Coventry culture."

James Brookes, Associate Partner at Bromwich Hardy, acted on behalf of CDP in the acquisition of the Coventry Telegraph Building.