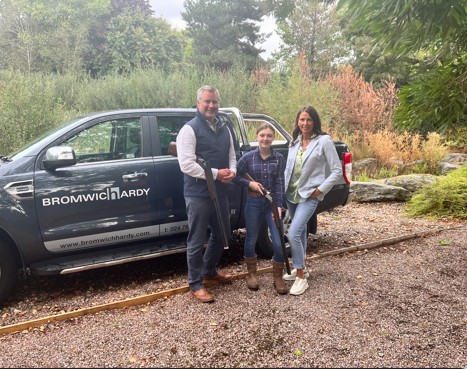 An aspiring Warwickshire shooter with Olympic success firmly in her sights is enjoying the backing of a top property business.
Coventry-based commercial property specialist Bromwich Hardy is supporting 15-year-old Hattie Cloves with her shooting aspirations by sponsoring her competition kit.
Hattie, who took up the sport when she was 10, has been competing for the past 12 months and includes a second place in the women's world 410 competition amongst her impressive achievements.
Bromwich Hardy founding partner Tom Bromwich said: "As a company we are always striving for excellence, so we are keen to recognise and support excellence wherever we find it in others. Hattie is an exceptionally talented young shooter and I'm delighted that we are able to play a part in helping her to achieve her dreams.
"I look forward to cheering her on when she steps onto the Olympic stage one day!"
Hattie has made a stunning start to her competitive shooting career, including second place in the women's English Open 410 competition and a junior bronze medal for Warwickshire in English skeet 12 bore. She also won the County Colts for Sportrap 12 bore.
She is a member of the Warwickshire team and is working towards the GB team under the guidance of 11-time world champion Cheryl Hall. She has been coached by Nicky Wakeford as part of the junior talent squad for Olympic Skeet (OSK), and Hattie also works with GB gold medallist Steve Walton and skeet bronze medallist Jeremy Bird.
Hattie learned to shoot with a 410 gun but over the past year has been shooting up to 12 bore. To keep up with her progress, follow @hattie_shooting on Instagram.