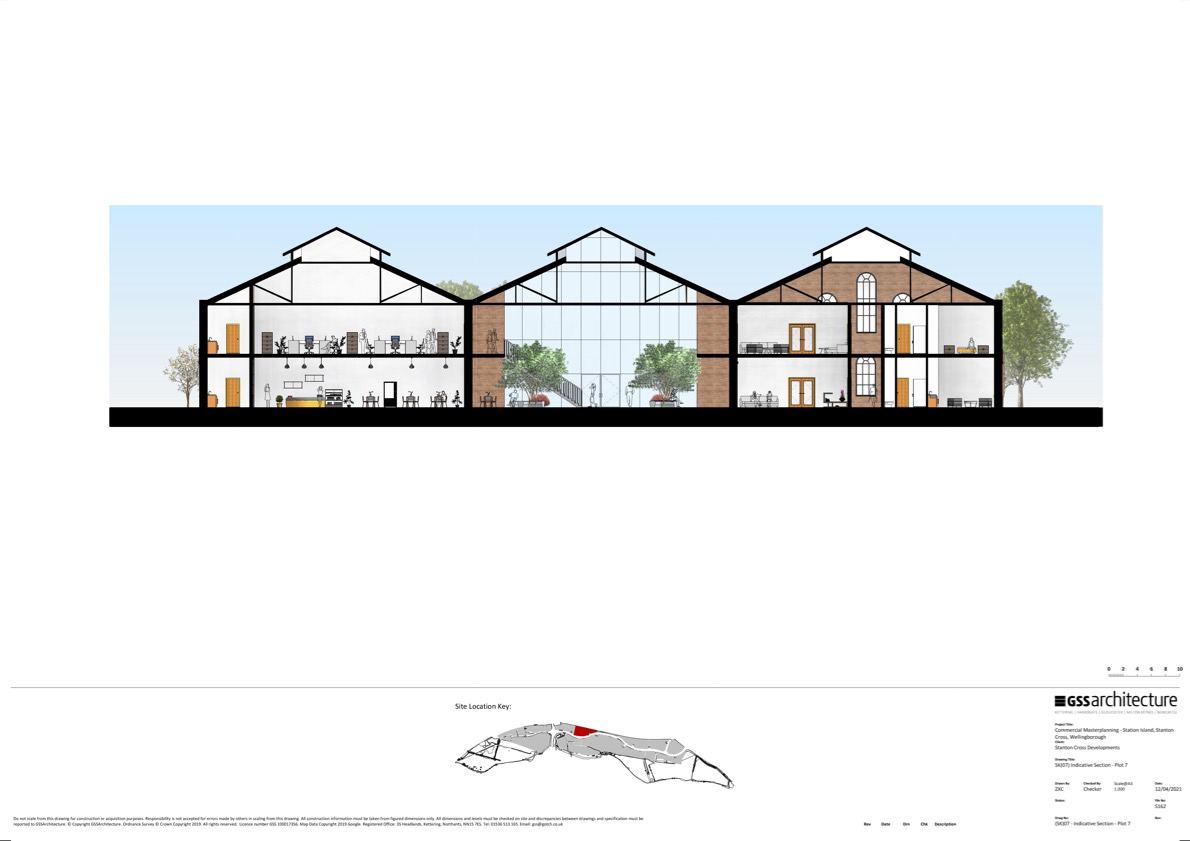 The first plots of land are under offer at a major new mixed-use industrial development which forms part of a £1billion plan to transform a Midlands town.
Partners involved in the Station Island development at Wellingborough say offers have been submitted for affordable homes on two separate plots amid significant interest in the once-in-a-generation project.
And they have unveiled artist's impressions of how one of the town's most historic buildings could be given a new life under the plans.
The scheme is part of the Stanton Cross development which will create more than 3,000 new jobs, open up over 1.5 million sq ft of commercial space and see the building of 3,650 new homes and community facilities.
Michelle Mills, partner in Coventry-based Bromwich Hardy which is marketing Station Island jointly with Drake Commercial for Stanton Cross Developments, said interest in the project had been exceptional.
"We are delighted to have the first two parcels of land under offer and especially pleased with the high levels of interest we have received in what will be a transformative project.
"As well as the development opportunities on offer, the scheme also includes a new access and parking facilities for the town's railway station, whilst outline planning permission has already been obtained for a wide variety of commercial and residential uses.
"We are particularly excited about the prospective plans to convert The Wellingborough Roundhouse, a former engine workshop, into a fantastic office, residential or leisure facility which will both preserve the building and take it into another era of use."
Nicholas Roberts, of Drake Commercial, said the plans for the roundhouse illustrated the quality and attention to detail associated with the whole scheme.
"These plans will not only give the renovated roundhouse real wow factor – whilst being entirely sympathetic to the building itself – but they will create a vibrant station commercial hub and range of commercial and development opportunities.
"This is a landmark scheme which will establish Stanton Cross as a key location for many years to come."
Lee Barrett, divisional operations director for Vistry Group and a representative of Stanton Cross Developments LLP, promoters of the Stanton Cross project, said: "We are not only thrilled to have the first two plots under offer at Station Island, we are also delighted that plans are evolving to secure the future of The Wellingborough Roundhouse and to give this landmark building a new lease of life through its sympathetic renovation."
Station Island provides the key link between Wellingborough town centre and Stanton Cross with development opportunities for both mix use residential/retail and employment uses.
Station Island is split into four areas – the Station District, Mill Lane Quarter, Northern Neighbourhood and Employment Village, with each having its own identity.
Station District will be a diverse development with a rich mix of complementary uses concentrated around Wellingborough Station and its new facilities and parking, whilst the Mill Lane Quarter will be an inspiring mixed-use area drawing upon the rich cultural heritage of Mill Lane and distinctive character of The Wellingborough Roundhouse.
The Northern Neighbourhood will be a flourishing community of starter, family, and later living homes, with opportunities for serviced offices and co-working hubs, local commercial services and leisure facilities to be integrated within the fabric of the development.
Meanwhile the Employment Village will be a thriving place to work, conveniently situated close to bus and rail links, within walking distance of Wellingborough and Stanton Cross, and benefitting from the Country Park on its doorstep.
Outline planning permission has been granted for a range of uses including E Commercial, Business and Service; Offices; B2 Light industrial; B8 Storage or distribution (maximum unit size 1,000m²); C1 Hotel; C2 Care Home, Retail and Sui Generis uses including a leisure establishment.
Both Birmingham and Luton airports are around an hour's drive from the site which is located close to key transport links including the A45, A14 and M1 motorway.
You can watch a fly-through video of the site here: https://www.youtube.com/watch?v=HRZV46IeE9Y&feature=youtu.be
For more details, to request a viewing or download a brochure visit https://www.bromwichhardy.com/propertyInfo/1890/Station-Island-Stantion-Cross-Wellingborough-Northamptonshire-NN8-Commercial-Development-Industrial-Development-Residential-Development-Land-Commercial-Land-Residential-084-to-831-Acres-034-to-336-Hectares