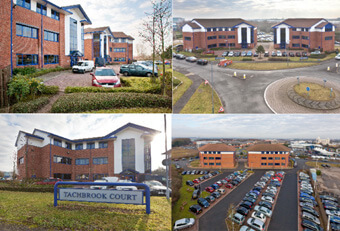 The local property market is picking up once again and with it, a state-of-the-art range of office buildings have become available on the prominently positioned Tachbrook Park in Warwick. Europa House, Athena Court,
Nicholls House and Bishops House have all been completed by property development and investment firm A C Lloyd and have units open for businesses seeking a well-connected base.
Tom Bromwich, partner at Bromwich Hardy, and has seen evidence that the market is strengthening. He said: "We have seen firsthand the confidence that is returning to the market through the deals and investments which are being made. It has been pleasing to see the progress that has been made and it bodes well for the immediate future. These opportunities on Tachbrook Park fall right into the category of the type of properties which are being picked up swiftly at the moment so we don't expect them to be available for long."

Europa House overlooks Europa Way, the main road linking Leamington Spa town centre with the M40 motorway. The building comprises a three-storey headquarters office building with a total sq ft of 20,000. All the facilities have been completed to the highest specification and come with the use of 72 external parking spaces as well as planning permission for B1 office purposes, although interested parties should clarify that position.

The nearby Athena Court also offers three units within a courtyard setting with self contained top-of-the-range buildings. Each building is available on a freehold or leasehold basis across this two phase development by A C Lloyd.

There are three units on offer from 500 sq ft to 1,900 sq ft with a two-storey office building available as well as smaller units, built to similar specifications, which can be taken on individually or on a combined basis.JUNE 2013
Nicholls House and Bishops House on Artemis Drive also have space available.

Such is the quality of these premises, A C Lloyd has taken the bottom floor of Nicholls House themselves while the other two floors remain available at 3,900 sq ft each.

Bishops House sits adjacent to Nicholls House and currently has 13,200 sq ft of available space. These are available individually as floors of 4,208, 4,653 and 4,380 sq ft or combined.

For more information on opportunities at Athena Court contact Tom Bromwich at Bromwich Hardy on tom.bromwich@bromwichhardy.com or 02476 308901.

To find out more about properties at Bishops House, Nicholls House or Europa way contact Tom Bromwich, or Andrew Wall at Wareing & Company on 01926 430700 or andrew.wall@wareingandcompany.co.uk.