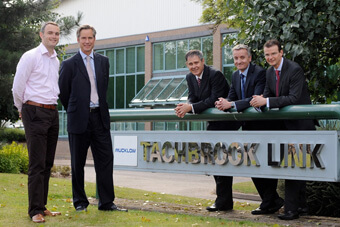 A double property deal at a Warwick business park has provided a jobs boost to the local economy.Commercial property agency Bromwich Hardy has let two major units on the Tachbrook Park business estate.
Ambu, a Danish global manufacturer of single use medical devices products and emergency care equipment, is relocating from its plant in Stonehouse, Gloucestershire to Tachbrook Link, a development by Mucklow. This forms part of its UK strategy which includes the purchase of First Water Ltd – based on the Heathcote Industrial Estate – which it bought earlier this year. It will mean 28 staff being based at Tachbrook Link, manufacturing a range of products including sensor tab electrodes for the cardiology unit and plates for use in Electro surgery.

The new complex will also become Ambu's UK headquarters for manufacturing under the name White Sensor Limited. Adrian Wise, Plant Director of White Sensor Limited, said: "After purchasing First Water who make our hydrogel, it made perfect sense to locate a manufacturing facility close by, so we are bringing the two operations into the same area.

''We are delighted with our new home and the local area. We look forward to developing our business and hope to do that in our new surroundings for many years to come''. Meanwhile Mills CNC, the largest independent distributor of CNC machine tools in the UK, already based on Tachbrook, has expanded its operation into an adjacent unit at Tachbook Link. Mills CNC, which employs around 90 staff at Leamington and across the country, now has four buildings on the park (over 50,000 sq ft) which is transforming into the Mills Technology Campus. Mills was represented by Wareing & Co in the property deal.

The new space will be used to prepare machines produced by their supplier Doosan for delivery to UK and Irish manufactures, and to allow further development of the overall site which includes a sales and demonstration showroom, an engineering turnkey centre and the award winning CNC Training Academy.

Managing director Nick Frampton said: "The increase in floor space is good news for us and for our customers."By doubling our space at Leamington we will now be able to demonstrate and showcase a broader range of Doosan machines to our customers and, because we are carrying more stock, will be able to achieve even faster delivery and installation times."

Tom Bromwich, of Bromwich Hardy, who acted for developers Mucklow, said the two lettings emphasised the draw of Leamington and Warwick because of their location. He said: "These two companies have both made substantial investments which will have a very positive effect locally.
"In both instances, locality and quality of accommodation was key. It is vital that towns can offer suitable space to allow successful companies to expand but also to attract inward investors. In this case these Mucklow buildings were perfect and as a result investment will be made and jobs created."

From left: Stuart Haydon (Mucklow), Tom Bromwich (Bromwich Hardy), Adrian Wise (Ambu), Nick Frampton (Mills CNC), Mark Thompson (Wareing & Company).