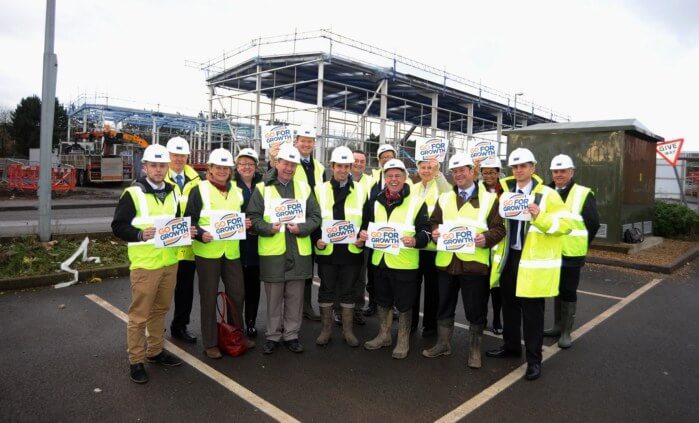 Companies in Coventry have been given a sneak peek of a new industrial/warehouse scheme, being marketed by Bromwich Hardy, in the city – but have been warned that commercial development opportunities are drying up.
The Coventry and Warwickshire Chamber of Commerce's Coventry branch met at the Pilot Trade and Business Park, which is being developed close to Coventry Airport.

The scheme features 14 trade and industrial units and, it was revealed, planning permission has been given on another standalone building of 15,000 sq ft close by. Another 'shed' of 75,000 sq ft could also be in the offing.

David Penn, the Coventry branch chair – and commercial property expert of local agents Bromwich Hardy – said more development of this kind was necessary in order to ensure economic growth.

A lack of development land for commercial use has been highlighted in the Chamber's Go For Growth campaign as a barrier to growing the region's economy.

Penn said: "There is a shortfall right across the board. Each year, we need to produce around 25 million sq ft of commercial space in the UK and, right now, there is a land supply for 50 million sq ft.

"So we have two years' worth of land – that's chronic if you ask me.

"Here in Coventry we have a situation where companies want to grow and move into new properties but there just isn't enough quality stock.

"The Gateway development, close to Coventry Airport, was blocked after being called in before the last general election, but I have no doubt that development will have to happen there in order to meet the demand to allow Coventry and Warwickshire to grow.

"As a Chamber, we want to hear from companies who are growing but, also, we want to highlight the plight of businesses who want to expand in the area but are being prevented from doing so because the right property isn't available to them. This will help us to build a picture as part of our Go For Growth campaign."

He added: "There is very strong demand for the units at the Pilot Trade and Business Park even though they are still being built.

"Further development is set to take place in this area but then, when you look around, there isn't much more new employment land coming forward and we need that if we want to be able to grow our businesses."

For more information on Pilot Business Park please contact Bromwich Hardy.