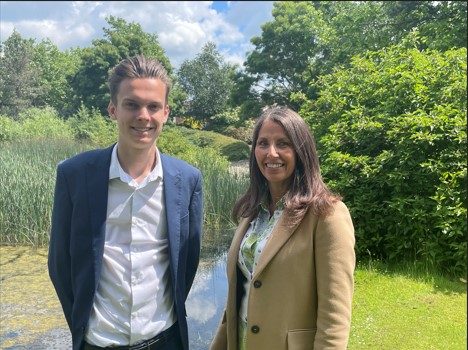 Leading Coventry commercial property agency Bromwich Hardy has boosted its team with a new appointment.
Twenty two-year-old Mark Booth has joined the award-winning agency as a graduate surveyor having previously spent a year with the firm as part of a partnership with Coventry University.
Mark, who graduated with a first-class degree in business management, is now being sponsored by the firm through a Masters in real estate management at Birmingham City University.
Bromwich Hardy partner Dawn Cooper said Mark had made a real impression during his previous year with the agency.
"Mark did really well in the year he spent with us and we are delighted to have been able to take him on as part of the team now he has successfully completed his degree.
"We have enjoyed a very successful work placement partnership with Coventry University which has helped us identify some real stars of the future and we are confident that Mark will continue this tradition.
"It is essential that we bring on the next generation of talent if the region's commercial property market is to continue to thrive, and we look forward to Mark completing his Masters and then setting his sights on achieving chartered surveyor status."
Mark said: "I loved my work placement here at Bromwich Hardy and am thrilled to have been able to join the team full time. I can think of no better place to start my career and learn my trade from a team of real experts."
Bromwich Hardy has also offered a year-long placement to Sheffield Hallam University student Robert Lord as part of his studies. Robert, from Leamington Spa, will spend 12 months with the company before returning to university to complete his degree in real estate.
Bromwich Hardy is one of the country's largest independent commercial property agencies, regularly featuring in independent lists of the most active firms in the industry.
For more information about Bromwich Hardy visit www.bromwichhardy.com