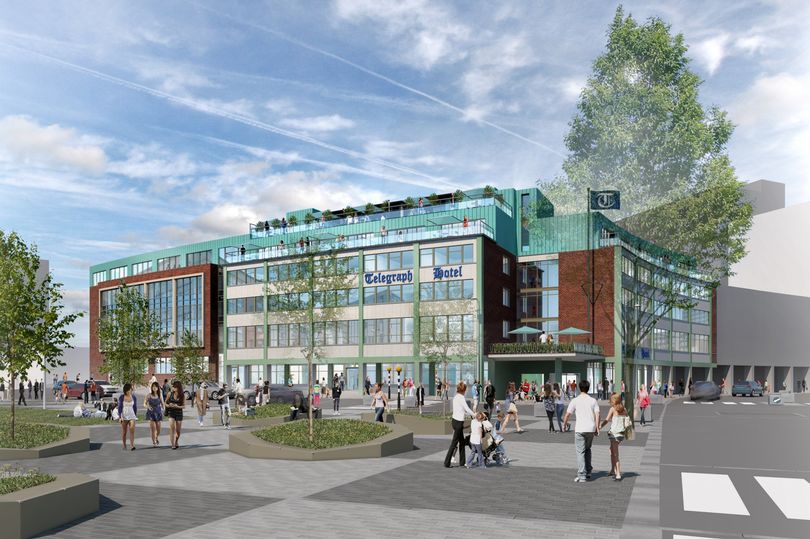 A partner at leading commercial property specialist Bromwich Hardy has scooped a prestigious award for his work on the redevelopment of a landmark city centre site.
James Brookes took the Deal of the Year honour at the FirstPro 2020 awards with client Complex Development Projects for the deal behind the £120million redevelopment of the Coventry Telegraph site.
Judges heard that the prestigious scheme had transformed 2.5 acres in the heart of the city to create a four-star boutique hotel and 1,200 student bedrooms.
James brokered the deal for the site, working with Ian and Brian Harrabin of Complex Developments Projects and Coventry City Council.
James – who was also named Dealmaker of the Year for the West Midlands for the second year running earlier this year – said he was delighted with the latest success.
"The Coventry Telegraph deal is one of the most challenging I have been involved with and one of the most satisfying to have achieved.
"It involved a complex network of stakeholders, imaginative cross-funding and the need for a series of related land deals all to come together at the same time, but we knew the result would be a development which the whole city could be proud of.
"The creation of a prestigious boutique hotel in the heart of the city not only adds to Coventry's visitor offering but makes a significant political and social statement ahead of the City of Culture experience and brings around 120 new jobs with it.
"It also regenerates a major city centre site and historic building of some importance, bringing jobs and a stamp of quality to the city. None of this would have been possible without some very creative thinking and Ian and Brian Harrabin and their team deserve particular praise for the work they have done."
Bromwich Hardy founding partner Tom Bromwich said he was delighted with the latest success for the Coventry-based agency.
"It is always a pleasure to be honoured for our work, but this scheme has brought us particular satisfaction for the way it is transforming the centre of Coventry. It has been a real privilege to have played a part in such an important project."
The award, given by the Coventry and Warwickshire First organisation, is the latest in a series of successes for Bromwich Hardy, which was also named the most active agent in Warwickshire for the seventh year running by respected industry publication Estates Gazette earlier this year.
The agency worked in full throughout the Spring lockdown and is continuing to work and conclude deals during the current restrictions.
To have a look at the Coventry Telegraph Hotel visit https://www.telegraph-hotel.com/