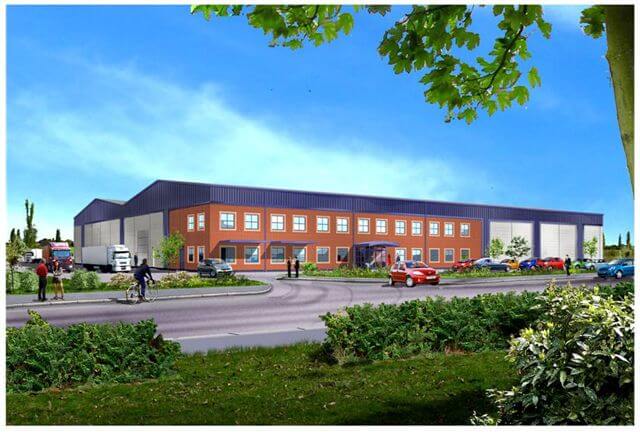 The UK's premier polyurethane suppliers have stuck with Leamington-based property developers for the construction of new headquarters.
Leeson Polyurethanes Ltd is the country's largest specialised manufacturer of formulated polyurethanes, a polymer which has various uses from serving as an adhesive to being moulded into products such as binders and coatings.

The company was established in 1986 and A C Lloyd constructed their existing purpose-built headquarters and factory on Hermes Close, Warwick back in 2001.

Following a period of sustained growth the company has outgrown that 25,000 sq ft facility and has agreed terms with A C Lloyd once again to build a new 52,000 sq ft production building on Tachbrook Park on a similar pre-sale basis.

Work has just started on the new site with the aim of having it completed in Autumn 2014.

Des Wynne, director at A C Lloyd has been pleased to see the way Leeson Polyurethanes Ltd has prospered, he said…." Leeson were very happy with the premises that we built for them back in 2001 and that quality of construction has to be a tribute to my predecessors at A C Lloyd. . We are very pleased that the business has gone from strength to strength, and we are delighted to be working with them once again, and in some small way contributing to the growth of this manufacturing company.

David Leeson, Managing Director of Leeson Polyurethanes Ltd comments…"Having enjoyed over ten years of continued growth in our premises at Tachbrook Park, when we needed to expand we had no hesitation in contacting A C Lloyd to see if they could provide us with a brand new facility, double the size of our existing building. Having negotiated the detailed design we are delighted that work has now commenced on site and look forward to moving into the new building towards the end of this year".

Tom Bromwich of Bromwich Hardy and Robert Rae of North Rae Saunders acted on behalf of A C Lloyd, and further opportunities remain at Tachbrook Park for warehouse distribution and office buildings on a design and build to suit basis.

Further information can be obtained from Tom Bromwich, 02476 308901, Robert Rae, 02476 636888 or by visiting www.tachbrookpark.com.